The publishing industry just doesn't seem to understand babies. Too frequently, books written for four-year-olds (such as Click, Clack, Moo) are reprinted as board books and marketed to parents of infants. Most babies won't be interested in stories with elaborate plots, because developmentally they can't follow them. Here is a list of fourteen books for babies that meet my criteria for babies under eighteen months: 1) They are short, like an infant's attention span. 2) They feature bright colors or high contrast images. 3) They were intended for infants, not older kids. 4) They are fairly sturdy – and I mean fairly sturdy – because I have seen what babies do to books they especially love.
Babies love looking at other babies. The text of these three books, I Love Colors, Baby Faces, and Baby Food, is somewhat besides the point. Even tiny ones will love staring at the adorable faces photographed by Margaret Miller. You will too – at least the first forty times you read them. Ages: 0-2
The Going-To-Bed Book and Moo Baa La La La are two of my kids' favorite books by the incredible author/illustrator Sandra Boynton. These books, featuring friendly-looking cartoon animals, are funny in a way that very young toddlers (and adults) will appreciate. They also have a great rhythm to them when read aloud. In fact, some of Boynton's other board books are actually songs that she wrote; for more songs by Boynton, check out the CD/book collection Philadelphia Chickens: A Too-Illogical Zoological Musical Revue. Ages: 0-3
Karen Katz has written many excellent age-appropriate books for infants. Some of my favorites include Where Is Baby's Belly Button?, Counting Kisses, and How Does Baby Feel? As a one-year-old, my daughter was fascinated with belly buttons, both hers and mine. Whenever we would read Where Is Baby's Belly Button?, which was very often, she would always have to look at someone's belly button. During Counting Kisses, she would giggle every time I would kiss her feet nine times or her toes ten times. These are the sweet memories you hang on to when your baby is reading Harry Potter. Ages: 0-3
"Don't touch that gum on the ground. It's yucky." "Eat your peas. They are yummy." These are the instructions that toddlers hear all the time. Yummy Yucky by Leslie Patricelli drives home these kinds of points in an engaging and humorous way. Yes Yes! A Bundle of Board Books includes this book and two others, Big Little and No No Yes Yes. After all, "no," "big," and "yucky" is 50% of what one-year-old kids say anyway. Ages: 6 months – 3 years
Cloth books are great for book eaters, like my son as a baby. Squishy Turtle and Friends and Fuzzy Bee and Friends used to be carried all around the house. They are soft, unbreakable and make great crinkling sounds. There is not much content to them, but I guarantee that your baby will not mind. Ages 0-2
Pat the Bunny has been around for decades, but now the book has been redone and renamed Pat the Zoo for a new generation. This edition features stronger binding and more animals for infants to touch and feel. Ages 0-2
Babies love to be surprised; lift-the-flap books are to babies what junior mysteries are to elementary school students. No matter how many times my 9-month-old daughter flipped through Peek-a-Moo! by Marie Torres Cimarusti, she never ceased to be amazed by the animals she revealed. These books will take a beating, but that is what tape is for. Dear Zoo: A Lift-the-Flap Book and Peek-A Who? are also great choices. Ages 6 months – 3 years
Many little munchkins love looking at animals, especially cute animal babies. ZooBorns!: Zoo Babies from Around the World by Andrew Bleiman and Chris Eastland will mesmerize your future zoologist. Ages 0-3
Additional Picture Books for Babies
Songs for Babies
Baby Mine – Alison Krauss

All the Pretty Little Horses – Hana Bird

Hush, Little Baby – Mae Robertson

Twinkle, Twinkle Little Star – Jewel

Rhymes for Babies from my book  Big Book of Animal Rhymes, Fingerplays, and Songs
Round and round the haystack (Have your fingers run round child's wrist.)
Went the little mouse,
One step, (Have finger climb up arm.)
Two steps,
In his little house. (Tickle baby under armpit.)
Here sits the Lord Mayor, (Touch head.)
Here sits his men. (Touch eyes.)
Here sits the cockadoodle. (Touch one cheek.)
Here sits the hen. (Touch other cheek.)
Here sit the little chickens. (Touch teeth.)
Here they run in, (Open mouth and touch lips.)
Chin chopper, chin chooper
Chin chopper, chin! (Touch chin.)
Jul 15, 2013 - childrensbookbin.com -

98
Included is a list of 14 books for babies that meet my criteria: short, feature bright or high contrast images, are intended for infants, and are sturdy.
Jul 15, 2013 - ala.org -

92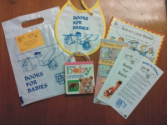 Jul 15, 2013 - seattletimes.com -

90

Originally published Monday, May 28, 2012 at 6:30 AM Courtesy Little Simon Courtesy Atheneum courtesy Candlewick Press Choosing the best books for babies and toddlers is a fun - and important - job. But finding the best books for the youngest readers isn't always an easy task.
Jul 16, 2013 - parenting.com -

85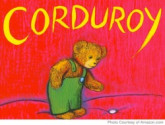 Most of us have heard how important it is to have books at home and read them, even to young kids. But how do you know which titles your baby or toddler will love?
Jul 16, 2013 - parents.com -

92

Check out some of our favorite books for babies.
Jul 22, 2013 - slj.com -

98

The icon means that a Spanish language edition is also available. B oard books are designed to survive the wear and tear of babies' and toddlers' inquisitive mouths and hands and offer a wonderful opportunity to share with a child snuggled on a caregiver's lap.
by
by