For my first theme, I will choose my daughter's first word: Duck. Kids love ducks because they are accessible in the wild and they make a great sound. Quack! As a result, ducks are widely used in children's picture books, often as silly or comedic figures. Here are reviews of 9 picture books about ducks for preschoolers and more recommendations.
This is definitely true with Duck at the Door, a children's book by Jackie Urbanovic. In this story, a duck named Max decides not to migrate south with the rest of his flock, because he liked summer and figured he might like winter too. He ends up at the doorstep of a pet-loving person named Irene who welcomes him into her brood. The interactions between Max and the rest of the pets are very amusing and poignant. My son was especially touched by the relationship between Max and a large dog named Brody. I liked how this book touched on how people (or ducks) can annoy us, but we still love them. Sequels to Duck at the Door include Duck Soup , Duck and Cover, and Sitting Duck.
If your child loves silly shenanigans, check out Ducks Don't Wear Socks by John Nedwidek. Emily is a very serious child, until she meets ridiculously over-the-top Duck, who teaches her how to lighten up. In the end, the pair laugh so hard they cry when Emily plays her own prank. This book is a good reminder to kids (and adults) to relax and enjoy life.
Thump, Quack, Moo: A Whacky Adventure is a sequel to Doreen Cronin's Click Clack Moo: Cows That Type. The character Duck is perhaps the most intelligent animal on the farm, but as my son says, he is also a troublemaker. In this story, Farmer Brown and the animals are preparing for the annual Corn Maze Festival. The trick Duck plays on Farmer Brown brought out a huge laugh from both of my kids. This book is pure fun with some higher level vocabulary sprinkled in. Other Cronin stories featuring Duck include Duck for President and Giggle, Giggle, Quack. I would not recommend these books for children under four, however. For the most part the humor is too sophisticated.
A book I would definitely recommend for younger kids is Five Little Ducks, illustrated by Ivan Bates. This is a picture book version of a popular public domain song (the tune for which is included on the last page of the book). The colored pencil and watercolor illustrations are lovely. My son liked how instead of getting lost, the baby ducks make animal friends. This softens the drama of the song and makes for a very sweet reunion at the end.
The books featuring Little Quack, the smallest of five baby ducklings, are also surefire crowd pleasers for small children. My kids especially enjoyed Little Quack's Hide and Seek, in which Little Quack finds the best hiding place, right behind Mom! Author Lauren Thompson has also released a number of Little Quack board books for babies and toddlers, including Little Quack Counts, Little Quack's Opposites and Little Quack Loves Colors.
The Ugly Duckling is a classic tale that has been converted into many picture books. Rachel Isadora provides a fresh twist on the story by setting it in Africa. My favorite part of this book are the bold oil paint illustrations. I do find it a little odd that the swan at the end is black in color, as black swans are native only to Australia and New Zealand. That said, it is a quick and enjoyable version of Hans Christian Anderson's story.
No list of duck books would be complete without the children's classic Make Way for Ducklings by Robert McCloskey. This timeless tale still inspired my kids, despite somewhat dated pencil illustrations. I liked how this story features a real location (Boston) and has some connection to how ducks actually behave in the wild. There are many teachable elements in this story, including migration, duck mating, how an egg hatches and the effect of human cities on animal behavior.
Unfortunately, two of our favorite duck books seem to be out-of-print, but they still can be bought second-hand on Amazon or placed on hold at your local library. Super Duck by Jez Alborough is about a duck who is convinced he is a superhero, but when his careless antics get a friend in real trouble, he is forced to actually save the day. Little One Step has a meaningful message: the distance you must travel may be great, but as long as you focus on putting one foot in front of the other you can make it. When my husband and I would go walking with our then two-year-daughter, she would sometimes get tired and we would remind her – one step, one step, just like the little duck.
Additional Recommended Picture Books about Ducks


Recommended Easy Readers about Ducks

Songs about Ducks

Here are some music selections to go with the theme:
Five Little Ducks – Raffi
Six Little Duck – Raffi
Be Like A Duck – Sandra Boynton
Rubber Duckie – Ernie
Rhymes about Ducks

And here is one action rhyme featuring ducks from my book Big Book of Animal Rhymes, Fingerplays, and Songs:
Mr. Duck went out to walk, (Hold up right index finger.)
One day in lovely weather.
He met Mr. Turkey on the way. (Hold up left index finger.)
They stopped and talked together.
Gobble! Gobble! Gobble! (Bend and unbend left finger at joint.)
Quack! Quack! Quack! (Bend and unbend right finger at joint.)
Gobble! Gobble! Gobble!
Quack! Quack! Quack!
And then they walked on back. (Hide behind back.)
Jul 15, 2013 - childrensbookbin.com -

245

Ducks are widely used in children's books, often as comedic figures. Included are reviews of 9 picture books about ducks for preschoolers and more.
Jul 15, 2013 - nytimes.com -

228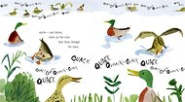 They quack; they have feathers; they exude Robert McCloskey wholesomeness. They eat Wonder bread even though it's evidently as bad for them as it is for young children. What's not to like about ducklings? A lot, if you ask a pigeon.
Jul 16, 2013 - pragmaticmom.com -

259

Best Children's Books with Ducks What is it about ducks in picture books that always seems so appealing? Are ducks really so unusually clever as portrayed in these books? Or charismatic? Or just sweet and fluffy? I think all of the above is true!
Jul 16, 2013 - storytimekatie.com -

304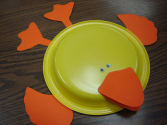 I was so excited to do this storytime - I love ducks and was incredibly lucky to find an amazing craft! Yes, this is one of those storytimes that was built around a craft. But I had nothing to fear, there are a plethora of great duck books, songs, and rhymes!
Jul 16, 2013 - sommerreading.wordpress.com -

271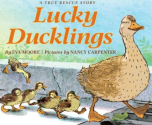 I should skip a few steps ahead and add Eva Moore's picture book, Lucky Ducklings , to the classics shelf. This warm and gentle book is based on the true story of a mother duck and her five ducklings.
by
by