Thanks to Harry Potter, fantasy books for children have become very popular during the last decade. The number of chapter books featuring magical creatures is steadily increasing and now that trend is spilling over into the picture book market, giving readers more books on topics such as dragons. Here are seven book reviews featuring dragon books for kids.
Dragons are fascinating creatures for kids. They resemble dinosaurs, except that they breathe fire, hoard gold and don't have impossible to pronounce names. You can pretend to fight them or befriend them. In King Jack and the Dragon by Peter Bently and Helen Oxenbury, three little friends spend the day battling dragons and other fierce looking creatures. They are victorious, until the real giants (their parents) come to put them to bed. As my son said, "No worries, tomorrow they spend the whole day fighting some more." This book is a tribute to imaginary play.
In another book, Max's Dragon by Kate Banks, a dragon literally materializes out of thin air while Max is looking at the clouds. This book plays with rhyming words and the victory of a younger brother over his older ones.
Older siblings will enjoy If I Had a Dragon by Amanda Ellery. In this book, Morton is frustrated by his boring baby brother and wishes he had dragon instead. At least he thinks he does – until the dragon gets out of hand and Morton rethinks his desires. My kids and I loved the simple, yet humorous illustrations.
Dragons can of course be very destructive. Sally learns this in Argus by Michelle Knudsen when the chicken egg she is given in class turns out to hold something a little wilder. In the end, Sally learns to appreciate Argus, even if he is not as cute and manageable as the cute yellow chicks everyone else is raising. This book is a lesson on responsibility and the challenges of being different.
Crispin Blaze, the dragon in Not Your Typical Dragon by Dan Bar-el, also struggles with being unusual. Instead of breathing fire on his seventh birthday the way he is supposed to, he blows out whipped cream. Soon it becomes obvious that he breathes out everything except fire, including band aids at the doctor's office, marshmallows near a campfire, beach balls while thinking about beach, etc. He is helped out by a skinny knight who is also trying and failing to please his father. But when Crispin's talent ends up saving the day, everyone learns a lesson.
Lovabye Dragon uses a mostly gray and purple palette to tell the simple story of a girl who shed so many silver tears for the love of a dragon friend that they eventually reached a dragon who was lonely for a girl. Not much happens in this story, but the emotions are heartfelt and they touched my sentimental son. He told me that the dragon is the king dragon of all of the dragons and that the two friends will never leave each other's side again. This book is so gentle and short it would be appropriate for toddlers, as well as older children.
Puff The Magic Dragon is another book that chronicles the friendship between a child and a gentle dragon. This edition includes a four-song cd of the famous Peter Yarrow song, a sweet and melancholy tune about the end of childhood. The painted illustrations by Eric Puybaret give the book a more upbeat ending than the original song, however. Puff ends up finding a new friend.
Additional Recommended Picture Books about Dragons

Recommended Easy Readers about Dragons

Songs about Dragons

Puff, The Magic Dragon – Peter, Paul, and Mary
The Lion And The Unicorn – The Wiggles
Rhymes about Dragons

Here is a tongue-twister from my book Big Book of Animal Rhymes, Fingerplays, and Songs:
Davy Doldrum dreamed he drove a dragon.Did Davy Doldrum dream he drove a dragon?
If Davy Doldrum dreamed he drove a dragon,
Where's the dragon Davy Doldrum dreamed he drove?
Children's Books about Dragons
Link up your blog post about dragon books or add your suggestions here!
Source: http://childrensbookbin.com
Jul 15, 2013 - childrensbookbin.com -

123

Thanks to Harry Potter, fantasy books for children have become very popular during the last decade. Here are 7 book reviews featuring dragon books for kids.
Jul 15, 2013 - nytimes.com -

118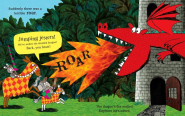 DRAGONS LOVE TACOS By Adam Rubin.Illustrated by Daniel Salmieri. 40 pp. Dial. $16.99. (Picture book; ages 3 to 5) What's not to love about a book with the absurdist premise that dragons love tacos - as long as they're not too spicy?
Jul 15, 2013 - thebookdiariesblog.com -

99
Do your kids go through phases? Mine do. And, right now, my kids are in an all-out dragon phase. Below are fifteen of their favorites, so you can join in the dragon-y love. I love the dragon-y diversity. And I'd love it if you'd chime in with your fire-breathing favorites too.
Jul 16, 2013 - aadl.org -

134
Description: Recommended Dragon Picture Books For Youngin's This list is publicly viewable Last updated: July 19, 2011, 2:00 pm
Jul 16, 2013 - whatdowedoallday.com -

119

There has been a rash of new dragon picture books this year, which is great for those of us who can't get enough of the mythical creatures. I quite like a good dragon book myself and sometimes there is an unfortunate tendency to lump dragon books as "boy books."
by
by