Rabbits rival bears, cats and dogs as the most featured animal in children's literature. This list includes just a small segment of the books on the market. Bunnies are favorites with toddlers, but there are plenty of choices for older children too. Here are twelve reviews of picture books about rabbits.
In my opinion, Mo Willems is one of the best current author/illustrator of picture book and easy readers. All of his books are legendary in our house, but if I had to pick a favorite, it would be Knuffle Bunny. We read this book to my daughter (many, many times) when she was around twenty months, which is about the same age as the main character, Trixie. In this story, Trixie goes to the the laundromat with her father and her favorite toy – Knuffle Bunny. When Trixie starts having a meltdown on the way home, her father has to figure out what is wrong. Willems uses real photographs of Brooklyn as a background for the activities his cartoon-like characters. Knuffle Bunny Too: A Case of Mistaken Identity and Knuffle Bunny Free: An Unexpected Diversion are amusing sequels for fans of this book.
Another toddler favorite is Guess How Much I Love You by Sam McBratney. Little Nutbrown Hare and Big Nutbrown Hare compete to see who loves the other one more. This big-hearted tale should please any little one that has ever wanted to be big. Even though, as my husband pointed out, Big Nutbrown Hare is way bigger than any rabbit ought to be.
The Tale of Peter Rabbit by Beatrix Potter is over a hundred years old, and has remained popular for good reason. Peter is naughty; he blatantly ignores his mother's instructions not to go in Mr. McGregor's garden. It is not long before he is regretful and wants to get back to his rabbit hole, but he has to endure a series of unfortunate events first. The book intends to convey a moral, yet its tone is never preachy. The prose is much richer and more descriptive than modern writing.
The Runaway Bunny by Margaret Wise Brown is all about motherly love, particularly between rebellious boys and the women they are both seeking and fleeing. My son could relate to this book from a very young age. The baby rabbit is angry with his mother, so he wants to run away. His mother, in turn, promises to always find him. The illustrations alternate between black and white and full color. This was probably done to save money on ink in 1942, but the end effect works well to heighten the drama of the story.
Getting back to the modern era, Moon Rabbit by Natalie Russell stars the city dwelling Little Rabbit, who decides one night to seek out another little rabbit like herself. She finds Brown Rabbit and they dance and become great friends until Little Rabbit decides to head back to the city. Little Rabbit's decision to maintain her own independent life gives this story a somewhat modern feminist slant. I must admit that my son was disappointed; he (like Brown Rabbit) wanted Little Rabbit to stay in the park forever. I'm not sure I understand entirely either, but I liked this book and I also enjoyed the sequel, Brown Rabbit in the City.
When I am reading a picture book to my kids, two actions tell me if they are really interested in the book, as opposed to being only mildly interested. 1) They ask to look at the book after I am done reading. 2) They stop me from turning the page because they want to check out the illustrations. In the case of Little White Rabbit by Kevin Henkes, it was the latter. My son wanted to take in every page and savor it. This book is about the power of imagination. What would a bunny look like green? What if he were as tall as tree? What if he could fly with his ears?
In the American South, rabbits are traditionally known as tricksters. Tops & Bottoms by Janet Stevens is an innovative picture book about a rabbit that fools a lazy bear into giving up the best part of his harvest three times in a row. The spine of the book is on the top of the book, instead of the side, in order to better play with the concept of top and bottom. This story is somewhat sophisticated, so I would recommend it for children over the age of four.
In The Easter Bunny That Overslept, by Priscilla Friedrich, the Easter Bunny snoozes too long one rainy spring and misses his holiday. When he wakes up on Mother's Day, he tries to deliver his eggs, but nobody wants them. He is spends to rest of the year trying to deliver the eggs at different holidays, until a present from Santa helps him get his act together. This book grapples with rejection and redemption.
Any list on bunny books would have to include the original Max and Ruby books by Rosemary Wells. I have an older daughter and a younger son and their dynamics are similar to these two siblings. Ruby is more responsible and tends to mother Max; Max is a complete goof and tries to get Ruby to lighten up and have fun. I like Max Cleans Up, where he shoves all of the junk that Ruby is trying to get him to throw away, into his pockets. This book uses textured illustrations to make Max's "treasures" seem particularly disgusting. Bunny Money, Max's Dragon Shirt  and Bunny Party are all family classics.
OK, so I thought this book was dumb, but this blog is not just about me, and my five-year-old son loved this book. He spent twenty minutes looking at it after I had already read to it him – twice. Then I read it to him again another day and he spent another twenty minutes looking at it again. Make Way for Dumb Bunnies is about a family of really stupid bunnies, featuring loads of slapstick humor. They go to the beach in the pouring rain, drive a car with their kid on the roof and watch a movie backwards and by that I mean they watch the projector, not the screen. As my husband said, "It's no Peter Rabbit."
Creepy Carrots!, by Aaron Reynolds, is campy in a film noir kind of way. Jasper the rabbit loves eating carrots until one day they start following him home. Soon he is being stalked everywhere by the menacing vegetables. I love how illustrator Peter Brown uses only black, white, gray and orange. My son loved how this story seemed frightening, without actually being scary at all.
White Rabbit's Color Book by Alan Baker is hands-down the best book I've seen that teaches children about mixing colors. White rabbit dyes his fur by dipping into different bowls of colors, eventually ending up brown. I used this book as a librarian years ago and I am happy to see that it is still available.
Additional Recommended Picture Books about Rabbits

Recommended Easy Readers about Rabbits

Rhymes about Rabbits

And here is one fingerplay featuring rabbits from my book Big Book of Animal Rhymes, Fingerplays, and Songs:
Here is a bunny (Hold up two bent fingers on right hand.)
With ears so funny. (Wiggle fingers back and forth.)
Here is her hole (Form circle with fingers on left hand.)
In the ground.
When a noise she hears, (Straighten out fingers on right hand into "V" shape.)
She pricks up her ears,
And hops in her hole
In the ground. (Have fingers on right hand jump into circle.)
Additional Links about Rabbit Books

Best Picture Books about Rabbits
Jul 15, 2013 - childrensbookbin.com -

130

Rabbits rival bears, cats and dogs as the most featured animal in children's literature. This list includes just a small segment of the books on the market. Bunnies are favorites with toddlers, but there are plenty of choices for older children too. Here are twelve reviews of picture books about rabbits.
Jul 15, 2013 - times-standard.com -

117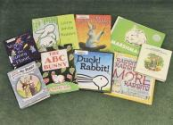 JoAnn Bauer/For the Times-Standard Posted: 03/24/2013 02:29:03 AM PDT Updated: 03/24/2013 02:29:04 AM PDT Click photo to enlarge There are lots of famous rabbits in children's literature. Everyone knows Peter Rabbit (Beatrix Potter) and Uncle Wiggly (Howard Garis), and the White Rabbit who sets off all the action in "Alice in Wonderland" by Lewis Carroll.
Jul 15, 2013 - goodreads.com -

114

46 books based on 8 votes: The Runaway Bunny by Margaret Wise Brown, The Velveteen Rabbit by Margery Williams, The Tale of Peter Rabbit by Beatrix Potter...
Jul 16, 2013 - notimeforflashcards.com -

99
Spring conjures up many images for me and while chocolate bunnies are my favorite type of rabbit these books about bunnies are a close second! These aren't Easter books, I will do a post devoted to those in the coming weeks and check out our previous Bunny book reviews.
Jul 16, 2013 - abebooks.com -

103

by
by