Chickens have played a number of roles in folk literature for children. Depending on the story, they can be fools ("The sky is falling! The sky is falling!") or industrious (The Little Red Hen). Sometimes roosters are portrayed as loud and vain and hens are seen as motherly. Recently, however, picture books have left behind some of the old stereotypes and embraced what is fun/funny about chickens. Here are reviews of ten picture books about chickens for kids.
As a librarian I found myself occasionally developing a soft spot for certain characters. Minerva Louise by Janet Morgan Stoeke was definitely one of them. In many ways, she is similar to Amelia Bedelia, because she is naive and tends to view the world around her very literally. But Amelia can grate on my nerves, while Minerva is charming. Why? I am guessing it's because she is an adorable chicken. One of my favorite Minerva books is Minerva Louise and the Colorful Eggs, an Easter story in which Minerva mistakes the eggs at an egg hunt for motherless chicks. "Some of them are so cold they're turning blue," she tells the other hens. My daughter particularly enjoyed the part when Minerva asks a chocolate bunny for assistance. For more great Minerva fun, you should also check out Minerva Louise and the Red Truck.
Another family favorite is Interrupting Chicken by David Ezra Stein. In this book, the father is trying to read the little red chicken a bedtime story, but can never quite get very far, because he keeps getting interrupted. Anyone who has ever read to a three or four-year-old would find this book hilarious. My husband does a great rendition; the kids were howling with laughter after listening to him read the story at dinner.
If you actually want your child to sleep, Goodnight Lulu by Paulette Bogan might be a better choice of bedtime books. Momma is trying to convince Lulu to go to sleep, but Lulu is worried about predators coming in while she is sleeping. Momma reassures Lulu that she will personally chase away any creature who dares get near her baby. My son loved the image of a fierce chicken attacking a terrified tiger. This book is a fun, modern spin on motherly love.
The Little Red Hen is a popular morality tale beloved by children (and mothers) about a chicken who tries to get help with some chores related to baking bread. The other animals are completely uninterested in helping her until the final step – eating. Jerry Pinkney's version is true to the original tale and features realistic looking animals. The only twist was that instead of eating all the bread herself, she shared it with her chicks, who had been helping her all along.
Now back to the books with goofy antics – the kind my five-year-old son loves. In Chicken Dance by Tammi Sauer, Marge and Lola, two barnyard hens, have a dream to see Elvis Poultry, a famous rooster, live in concert. To get tickets, they must defeat the other animals at the barnyard talent show. This seems unlikely, because the ducks win every year and "all a chicken can do is bawk, flap, and shake." After spectacularly failing at many activities, the chickens focus on doing what they can do best.
Chickens are, of course, connected with food and Chicks and Salsa, by Aaron Reynolds, plays with this concept without actually making them the main dish. When a rooster sees Mrs. Nuthatcher, the farmer's wife, watching a cooking show, he gets the idea to make salsa. Soon all of the farm animals are preparing Latin cuisine and saying, "Ole!" This book is great for aspiring foodies.
My seven-year-old daughter really enjoyed this next book, Rooster Can't Cock-a-Doodle-Doo by Karen Rostoker-Gruber. When Rooster wakes up with a sore throat and can't cock-a-doodle-doo, the whole farm has to pitch in to help him wake Farmer Ted. I liked how this story emphasizes the importance of every member of a team and how people (or animals) can come together to overcome a problem.
The rooster in Chicken Joy on Redbean Road: A Bayou Country Romp, by Jacqueline Briggs Martin, has also lost his voice, but in his case, it might cost him his head without fast action from his friend Cleoma, the hen. Chicken Joy is wordy and a somewhat challenging read-aloud, aimed at older children and parents who aren't intimidated by some Cajun dialect.
To be honest, I have always found the Chicken Little story a bit frightening for young children. I have never been a fan of stories where the main character gets eaten. This version is by Rebecca and Ed Emberley manages to keep all of the fun elements of the story, like the cute rhyming names, while eliminating much of the tension.
Chicken Cheeks by Michael Ian Black isn't really about chickens; it is more about cheeks (rears, bottoms, etc.) of different animals. This book plays with language to great effect and is never vulgar, only pure fun.
Additional Recommended Picture Books about Chickens


Recommended Easy Readers about Chickens


Songs about Chickens

Philadelphia Chickens by Sandra Boynton

Rhymes about Chickens

And here is one action rhyme featuring chickens from my book Big Book of Animal Rhymes, Fingerplays, and Songs:
Five eggs and five eggs (Hold up all ten fingers.)
That makes ten.
Sitting on top is Mother Hen. (Make a left fist and place right palm on top of it.)
Cackle, cackle, cackle; (Clap)
What do I see?
Ten fluffy chickens, (Hold up fingers.)
As yellow as can be.
Children's Books about Chickens
Link up your blog post about books featuring chickens or add more suggestions here.
Source: http://childrensbookbin.com
Jul 15, 2013 - childrensbookbin.com -

251

Chickens have played a number of roles in literature for children. Here are reviews of ten picture books about chickens for kids, plus more recommendations.
Jul 15, 2013 - latimes.com -

247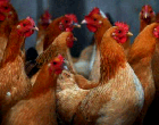 Certain animals seem to dominate children's literature. Surely, somewhere in the Winnie-the-Pooh/Peter Rabbit era, bears and bunnies had a meeting and divided up the territory. ("OK, you take cute and fuzzy, we'll take clever and mischievous. Bedtime stories are up for grabs.") Ducks muscled their way in somewhere along the line ("Make Way for Ducklings!").
Jul 15, 2013 - hencam.com -

176
Chickens are innately comical and some of the best children's book authors and illustrators have tapped into that to create wonderfully fun books. Here are my favorites. Please contact me if you have a suggestion to add to this list! Of course, I have to start this list with my very own book.
Jul 15, 2013 - playingbythebook.net -

213
My mum recently realised a long held ambition - to start keeping chickens. She's got three little hens, Pippi Longstocking (because she's so adventurous), Mabel and Rosie, and recently M and J got to meet them for the first time. In honour of these new members of the extended family we've been reading lots and lots of chicken stories.
Jul 16, 2013 - justtenbooks.blogspot.com -

229

This post is dedicated to my sister who once saw a chicken near her apartment in the city. She was so surprised that she called the police who in turn were not surprised nor concerned about this urban chicken. She also had a wild turkey roost outside of her apartment in a different urban center.
by
by