Beach weather is upon us and with that pirate season. Argh! Last year my parents and kids went on a "real" pirate ship, thanks to Pirate Voyages in New Jersey. After sailing the open sea (or at least the bay), "fighting" another pirate and drinking lots of "grog," both of them were committed to a life at sea, at least for an hour. Here are reviews of eight pirate picture books for your young buccaneers and landlubbers.
How I Became a Pirate by Melinda Long, incorporates everything that children like about pirates – the silly language, the questionable hygiene practices and the missing limbs, without the more objectionable stuff – stealing, plundering, etc. A kid named Jeremy Jacobs is building a sand castle, when suddenly a pirate ship approaches the shore. The captain, Braid Beard, and his goofy crew are looking for directions – they have taken a wrong turn at Bora-Bora – and a digger to help them bury their treasure. They decide that Jeremy is their man and he goes off to become a pirate for a day. At first, Jeremy loves being a pirate. There are no rules, you can be as gross as you want to be at the dinner table – my son loves that part – and you never have to brush your teeth. Eventually, he gets homesick and the pirates decide to bury their treasure in his backyard. Then they come back to get the treasure in the sequel, Pirates Don't Change Diapers, and meet their match – Jeremy's baby sister. After reading these two books, my son decided that he is "a little pirate with no peg leg or hook." He especially loves the pirate with two eye patches who keeps peeking out with his two good eyes. Ages 3+
What is the treasure pirates seek? Gold doubloons, jewels, fresh fruit perhaps? In Dirty Joe, the Pirate: A True Story by Bill Harley, smelly socks is the answer. He and his fearsome crew raid other ships and mercilessly steal them off sailors' feet. They are undefeated, sailing through the open seas with their collection of flying socks, until they are outmatched by a ship with female pirates and captained by a familiar person. Could it be Joe's beloved big sister? Unfortunately, these ladies are nabbing boys' underwear. Not only does my son enjoy this book, but his sister comes running in from the other room when she hears me read it. Afterwards, they reenact the story. This book is definitely a kid-pleaser, especially for families with both boys and girls. Ages 3+
Pirate Nap: A Book of Colors by Danna Smith is for toddlers everywhere who search under the couch cushions for hidden treasure. This book accomplishes three things: it teaches colors to kids, encourages napping and tells a 100% unoffensive pirate story. Two little pirates (boys) don't want to take a rest and neither does the sea monster (baby sister). Eventually, fatigue catches up with them and they return to their ship (bed) and sleep. I read this story to my son when he was two and he loved it (and still does). Ages 2+
The Skeleton Pirate is a rather unique tale by David Lucas about a skeleton pirate who loves to fight and hates to get beaten. Finally, he is bested by other pirates and ends up stuck in a whale with a mermaid. The lovely mermaid teaches our unlikely hero that fighting is not always the solution to every problem. Together they brainstorm their way out of the whale. My daughter particularly likes the ending, when the mermaid and the skeleton fall in love. Strange, I know, but it works. Ages 4+
Are you good at doing voices? Can you talk like a pirate and a cowboy? If so, your child will love Pirates vs. Cowboys by Aaron Reynolds. This story is about a pirate crew and a cowboy posse who meet up and get caught up in a misunderstanding because they can't figure out what the other is saying. Finally, a cowboy-pirate named Pegleg Highnoon comes to the rescue and lets them know what they all have in common – their stench. My son especially likes the manta-ray pirate and the wild boar cowboy. Ages 4+
In my opinion, An A to Z of Pirates is one the best alphabet books, especially for four-to-six-year-olds. Each page features a pirate scene with many hidden objects that represent each letter. It also manages to tell a story – if you pay attention carefully. Plus the rhyming text is reflective of "pirate talk" without putting your tongue in a knot. My son says that it helps him "learn a lot of letters." Considering we are shoring up his pre-reading skills for kindergarten in the fall, that is a good thing. Ages 4+
The modern concept of a pirate is more fantasy than history, based mostly on Treasure Island by Robert Louis Stevenson. Everything I Know About Pirates follows this tradition by making up a bunch of random facts about pirates, designed to entertain kids. My five-year-old son likes some parts of this book, such as the treasure chest containing a pot, a typewriter, a chicken, an apple, etc., but other parts went over his head, such as the pirate name chart. My seven-year-old daughter enjoys this sort of satirical "nonfiction," so the book is probably aimed more at her age group. Ages 6+
Additional Picture Books about Pirates
Easy Readers about Pirates

Songs about Pirates

Jake And The Never Land Pirates Album

Jake and the Never Land Pirates: Pirate Rock

Captain Feathersword – Wiggles

A Pirate Says Arr



Yo, Ho! (A Pirate's Life For Me)
Poem about Pirates
If sailor tales to sailor tunes,
Storm and adventure, heat and cold,
If schooners, islands, and maroons
And Buccaneers and buried Gold,
And all the old romance, retold
Exactly in the ancient way,
Can please, as me they pleased of old,
The wiser youngsters of to-day:
–So be it, and fall on! If not,
If studious youth no longer crave,
His ancient appetites forgot,
Kingston, or Ballantyne the brave,
Or Cooper of the wood and wave:
So be it, also! And may I
And all my pirates share the grave
Where these and their creations lie!
From Treasure Island by Robert Louis Stevenson
Source: Project Gutenberg

Jul 15, 2013 - childrensbookbin.com -

455

Beach weather is upon us and with that pirate season. Argh! Last year my parents and kids went on a "real" pirate ship, thanks to Pirate Voyages in New Jersey. After sailing the open sea (or at least the bay), "fighting" another pirate and drinking lots of "grog," both of them were committed to a life at sea, at least for an hour.

Pirateria written and illustrated by Calef Brown was our BLG book this week read by the very talented Bill who read sections in a very believable piratey "accent." This was one fun book and a very amusing read aloud experience! Bill started off with the title and immediately one child remarked that the title sounded a lot like "bacteria."
Jul 15, 2013 - plattekilllibrary.wordpress.com -

409

Because we will be celebrating Talk Like a Pirate Day (we make our celebration last a week!) every year from now on, I've decided to make our own Pirate Book Page! Enjoy! Pirate themed books (childrens) Henry and the Buccaneer Bunnies by Carolyn Crimi Captain Barnacle Black Ear, baddest of the Buccaneer Bunnies, is ashamed of his book-loving son, Henry, until the day a great storm approaches.
Jul 16, 2013 by Douglas Low - mild-manneredlibrarian.blogspot.com -

442

Every self-respecting Geek knows that International Talk Like a Pirate Day is on September 19th, and even though my pirate accent is absolutely terrible (it turns Southern about midway through, kids don't seem to notice) this week's entries are going to be about Pirates! First up, my favorite storytime, read-aloud Pirate books.
Jul 16, 2013 - nytimes.com -

354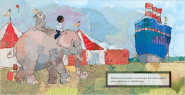 Just how child-friendly are pirates? Given the horrific headlines about actual pirates off the coast of Somalia, isn't it odd that parents happily read bedtime stories about the descendants of Long John Silver and eagerly look forward to the day when their preschoolers will be old enough to watch "Pirates of the Caribbean" on DVD?
Jul 16, 2013 - challengingthebookworm.wordpress.com -

454

ARRRRRRRRR me matey! Today is International Talk Like a Pirate Day! Never heard of it? Where is your pirate spirit? It's an excuse to celebrate all things pirate, and a great theme for story times that will draw the sprogs (errr... I mean boys and girls) into the library.
Jul 16, 2013 - slfbookreviews.blogspot.com -

450

by
by