Robots occupy the gray area between reality and fantasy. Although the future envisioned by "The Jetsons" – where robots would service our every need – never quite materialized, robotics still plays an important role in modern life, especially in manufacturing sector, the military, and space exploration. Children love robots, probably for some of the same reasons they love monsters – they can be configured in any way you could imagine. The idea that you can create something to do your bidding is also appealing. My daughter is in a robotics club at school, and she is fascinated by what she can invent and program using a computer. Robots are also a great introduction to science as a subject. Here are reviews for seven picture books about robots, plus more recommendations.
Our family just did our first science fair project and it was not easy! Between doing the experiment, crunching the data, writing up the information and laying out the board, my daughter was working for weeks. Luckily, she had it easier than the protagonist of Oh No!: Or How My Science Project Destroyed the World by Mac Barnett. The girl wins a blue ribbon for her project on Advanced Robotics, but the giant robot she created is destroying the city and she alone must stop it. This cinematic book is a nod to all of the great Japanese monster and robot movies, such as Godzilla and Voltron. My son liked how the robot could control dog's minds and enjoyed looking at the detailed design blueprints in the inside cover. Ages 4+
Young inventors will also enjoy Awesome Dawson by Chris Gall. Dawson takes old toys and reconfigures then into a variety of mechanical wonders. One day he and his cow/robot friend Mooey, go into his secret workshop and construct a robot to help him do his chores. Of course, like Oh No!, everything goes awry and Dawson has to undo the damage his creation inflicts. Ages 4+
At first glance, The Three Little Aliens and the Big Bad Robot, is just another version of the Three Little Pigs set in space. The three little aliens live in our solar system, however, so kids can track their journey and learn about the planets at the same time. In addition to the Big Bad Robot, a menacing figure with five red eyes, this book features the Mars Rover, a satellite orbiting Saturn, and a giant telescope. My son loved the sound effects that the giant robot made, such as "Greep, Meep, Peedily, Eep" and so on. He also liked the ending when the robot burst apart, creating a fireworks display. Ages 4+
After reading the first three books, my son was curious to know if robots were all bad. While evil/mindless robots are a common literary theme, there are plenty of books featuring more positive portrayals. Hello, Robots by Bob Staake is a cherry and colorful story about four friendly robots named Blink, Zinc, Blip, and Zip. They each have a job: Blink is a chef. Zinc is a handyman. Blip is a gardener. Zip is a cleaner. After getting caught in the rain, however, their wires become scrabbled and they start doing everything wrong. In this case, it is the robots that come up with a solution. They switch heads and soon everyone is happy again. The bright contrasting colors and simple, rhyming text will appeal to tots, as well as older children. Ages 2+
Another lighthearted book is Robot Zombie Frankenstein! by Annette Simon. In this story, two robots strive to outdo each other in a dress-up contest. This book reminds me of when my kids put on twenty different costumes/accessories, in order to create the most obscure character possible. After becoming very competitive, they find solidarity around – what else – dessert. My son was inspired to draw robots using shapes after reading this book. Ages 2+
If scientific accuracy is what your child is seeking, check out Robots Slither by Ryan Ann Hunter. This title features different kinds of real robots and descriptions about their current and potential future uses. We even noticed Kismet, a robot that we had met at a convention. My son had many questions while reading the book. Are robots alive? What is the difference between a person and a robot? Which robots are real and which ones are pretend? How can a robot not burn up in a volcano? Robots Slither doesn't answer all these questions – that is what nonfiction books are for – but it does encourage conversation and promotes interest without overloading younger kids with too much information. Ages 3+
Robot Zot, from Robot Zot by Jon Scieszka and David Shannon, is coming to take over Planet Earth. Nothing will distract him from his mission of world domination. He flies from space ready to pounce – right through a doggie door. I loved how this story plays with perspective. At first, Zot fills the entire page, making him look enormous. But once he lands, we see him from above, making it clear that he is only a few inches tall. This book is guaranteed to elicit a laugh from any child. Ages 3+
Additional Recommended Picture Books about Robots
Easy Readers and Early Chapter Books about Robots
Songs about Robots

Children's Books about Robots
Link your blog post about children's books featuring robots, or write your own suggestions here.
Source: http://childrensbookbin.com
Jul 15, 2013 - childrensbookbin.com -

501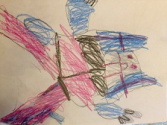 Robots occupy the gray area between reality and fantasy. Although the future envisioned by "The Jetsons" - where robots would service our every need - never quite materialized, robotics still plays an important role in modern life, especially in manufacturing sector, the military, and space exploration.
Jul 15, 2013 - penpalsandpicturebooks.com -

482
Oh, a rhyming post title! You know what that means don't you? Whitney = excited! (I know, I know, when am I not excited? But, this one is the new favorite around here, so that's something worth rhyming about I'd say.) and its a new gimmick book in our house.
Jul 16, 2013 - laughingsquid.com -

447

illustration by E. Benyaminson A Journey Round My Skull has posted a wonderful series of robot illustrations from Soviet children's books from the 1960's-1980's. via Boing Boing
Jul 16, 2013 - nytimes.com -

465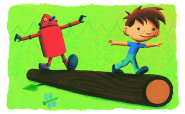 Beyond its pointed social message about the perils of earthly overabundance and human passivity, the movie "Wall-E" made one thing clear: Being friends with a robot would be awfully fun. Small children know this already, which is what makes two new picture books, "Boy and Bot" and "Beep and Bah," so appealing.
Jul 16, 2013 - playingbythebook.net -

510
Welcome to Your Awesome Robot by Viviane Schwarz is the first publication from a new and very exciting looking imprint, Flying Eye Books. A craft book about building robot costumes out of cardboard boxes, Viv Schwarz's book is like no craft book we've read before. It's a bedtime story as well as a round-the-kitchen-table manual.
by
by